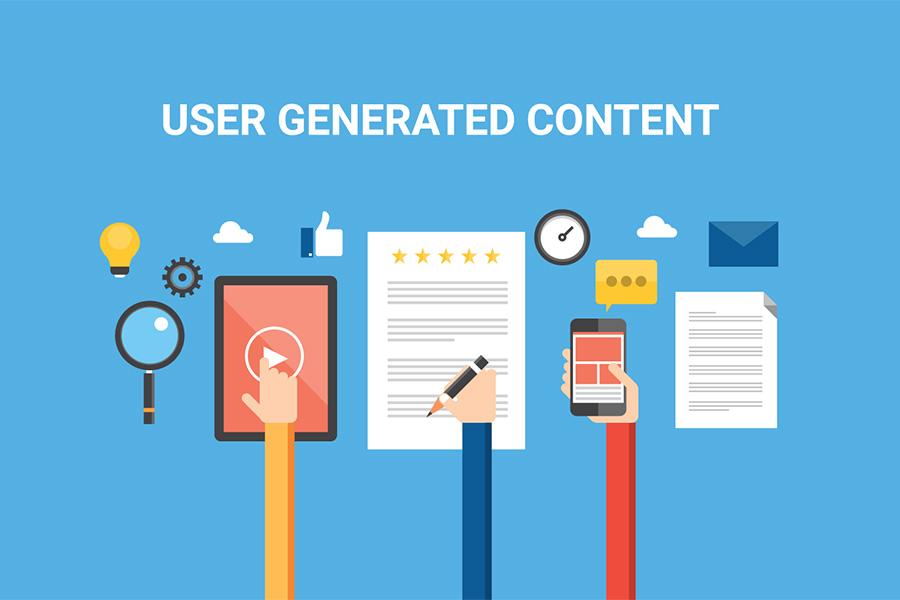 User-generated content is essentially any content created by unpaid contributors. It can include anything from pictures, videos, and blog posts to testimonials and discussion boards. User-generated content is typically created or uploaded online, where it is easily shared.
Proactively respond to your audience's complaints.
Put in mind that negative comments aren't necessarily bad for your business. Properly plan your response strategy. Strictly remain this, even if your customers are only asking questions and not really voicing out complaints, still respond and provide value.
Encourage your customers to leave reviews.
92% of customers now read online reviews. Besides, 88% of these consumers form opinions about brands after reading ten reviews.
The trick to effectively ask for a review is to make the process very easy. Eliminate all possible barriers and you'll be surprised by the flood of comments you'll receive.
Share fan photos during live events.
Share exciting fan photos not only on Twitter but also on other image-based social media websites like Instagram and Facebook. You'll be able to use these pieces of UGC for the long term by organizing them into a single UGC album.
Hashtag contests
Create hashtags that are easy to remember and aren't difficult to spell to ensure success. It's also important to use hashtags that set your brand apart from your competitors, also including your branded hashtag in all your posts.
Video Content
Video is an effective way to create UGC irrespective of what your content is. It can help your audience connect with you in ways other media can't. According to Octoly, on average, user-generated videos about a brand were viewed 10 times more than official brand videos on YouTube.
User-generated videos have immense potential for shareability and there is a higher possibility of them going viral, which can help to boost your following substantially.
CONTRIBUTION OF SOCIAL MEDIA IN USER GENERATED CONTENT:
Humans are by nature an envious bunch. Sharing exceptional user-generated content is a great way to spark brand desire. For tourism and lifestyle brands, it's especially powerful to showcase your destination through a visitor's lens.
Creating desire is all about getting people to experience your brand for the first time. Building brand loyalty is about fostering long-term relationships that result in multiple sales over time.
People who create and share user-generated content are likely to be among your biggest fans.
Highlight Social Proof
Social proof is the validation that customers provide to the brand about the trust, authenticity, reliability of their products & activities. Having social proof is extremely important in this digital age as it influences the purchase decisions of the consumers.
Diverse Creative Content
Creative & exciting content is the primary need for any marketing campaign to be successful. With user-generated content, you get the functionality to leverage diverse & creative content.
There are a lot of sources to extract User-generated content. The major UGC of three types is text, images, and videos. Now we learn about the types of UGC is in briefly.
With almost 45% of the world's population using social media activities daily, it would be no surprise to say that social media content matters.
Social media platforms such as Instagram, Facebook, Twitter, Youtube help the brands to generate content by the customers. This content helps the brands to unfold the layers of the market and boost audience engagement.
Simply crafted, any user content promoting your brand on social media is UGC for the brand.
Case Study
A case study is the detailed qualitative and quantitative study of a particular product or subject like the person, event, brand, etc.
When the customer writes his reviews in a detailed form explaining the pros and cons of the product/service, brands can use the content to land new customers.
Testimonials
According to the business dictionary, a testimonial is defined as a "Written recommendation from a celebrity or satisfied customer affirming the performance, quality, and/or value of a product or service. Testimonials are one of the most potent tools of marketing." Many brands invest in a whole testimonial page that serves as a platform to show off how the customers have benefited from their product or service.
Surveys
Surveys are the general views or descriptions related to some specific feature or product to construct a working plan.
Brands opt for surveys before launching a new product/service in the market. The customer's views help the brands know the needs of the market in a better way.
Comment
Comments usually appear under blogs or social posts of the brand. This type of content is mostly created by people who are extremely in love with your products, sometimes by those with unpleasant incidents. In general, comments are still easy to fake; however, it's deniable that they can help identify whether the product or service is helpful or not.
Review
Brands will collect customer reviews more proactively compared to comments. While everyone can comment including people who have no interaction with your business, reviewers directly pay for your products & services. Their content will be more informative and persuasive to other potential customers. Reviews can include text, photos, and videos.
Build consumer trust
A study by Nielson shows that two-thirds of customers trust customer opinions published online. When readers see that a non-employee has contributed to your site, it instills a feeling of genuine trust. After all, most bloggers and influencers won't endorse a product they haven't tried for themselves and enjoyed. Build consumer trust by getting true brand advocates to write content that they believe in. Boost Social Media Reach and Growth.
Social media platforms and UGC campaigns go together like peanut butter and jelly. The strengths of each create something magical when combined. Executing a UGC campaign on social is an excellent strategy to strengthen your brand and build customer relationships.
Gain Audience Insights
User-generated content is a gold mine of data – an advantage that's often overlooked. Analyzing the content your audience shares can generate key insights. This helps you better understand your audience and what they find engaging. And when applying the principles of a data-driven content marketing strategy, these insights help generate leads and increase sales.
Increasing your reach on social media
Along with those outside writers comes an outside audience, as well. When readers have a personal interest in the author of one of your posts, they are more likely to comment and share. This means more engagement for your content, including external shares across other channels.
Authenticity is a Necessity
The prime benefit of UGC is that it is created by real people based on their experiences, making them extremely authentic and realistic. Authenticity helps in making the users trust the source from which the content is shared.
More social sharing
User-generated content is often more relatable, more engaging, and, most importantly, more sharable. By detecting more likes and shares on your business's social media platforms, including Facebook and Twitter, search engines will take these social cues and give you higher search rankings.
UGC drives Conversions
User-generated content is a huge influencer of the online shopping behavior of the audience. That is why online reviews and excellent customer experience are given so much importance in digital media.
Huge traffic for your site
Recruiting outside writers brings in an outside audience. While not every single member of their audience will follow them to your site, a good portion will. That's valuable traffic that wouldn't have been there otherwise. That increased traffic isn't valuable simply because there's more of it. Any users who follow a guest blogger to your site are more likely to be solid leads since they already have an interest in your industry.
ShortStack is one of the pioneers in the business of enabling brands to create contests, giveaways, and other types of online competitions and promotions. Their flexible service enables you to jumpstart the creation of your promotions by customizing any one of a long list of templates.
Curalate
Curalate describes itself as a visual content platform and the leader in "discovery-driven commerce." The platform is a robust toolbox for increasing sales via social media. One compelling component of Curalate, Fanreel, enables e-commerce brands to "bring the outside in." That is, brands can easily gather UGC, secure approval to use it, and present it on-site to help boost conversion.
Olapic's a formidable player in the UGC space as well. Clients earn content with a content engine, request it from influencers and employees with a creator platform, and create it by turning assets into motion-based content.
CLOSING THOUGHTS
User-generated content (UGC) refers to anything your customers create that helps your marketing: blogs, social media posts, photos, podcasts, and even comments on your site all count as user-generated content. Perhaps most interesting of all is that users want to contribute to your site.