SEO speaks about the "semantic keyword" is refers to the meaning and intent behind a specific keyword phrase. Keyword research is the process by which you research popular search terms people type into search engines like Google, and include them strategically in your content so that your content appears higher on a search engine results page (SERP).
Semantic search refers to the ability of search engines to consider the intent and contextual meaning of search phrases when serving content to users on the web.
The two primary factors that guide semantic search are:
The search intent of the user: Search intent is the reason why someone performs a query on a search engine. It relates to what the user is trying to accomplish. Search intent could be to learn, find, or buy something. By considering the intent of users, search engines can provide more relevant results (e.g., an answer to a question, a product page, a brand's website, etc.).
The semantic meaning of search terms: Semantics is the study of meaning and relationships between words. In search, semantics relates to the relationships between a search query, the words and phrases related to it, and content on webpages. By considering semantics (what the words mean, not just what they are), search engines can display results that are more closely related to the context of the search query.
What are semantically related keywords?
Semantics is a branch of linguistics concerned with deriving meaning from words. Semantically related keywords are simply words or phrases that are related to each other conceptually.
For example, for a keyword like "search volume," some semantically related keywords could be:
ii) paid search
iii) online marketing
How to find keywords?
Some keywords will be obvious, like "small business accountant". But it's those obvious keywords that are the hardest to rank for, as everyone will have the same idea, so there will be lots of competition!
For that reason, it's also beneficial to find what's called "long-tail keywords". These are keywords that may be searched for less often but are much more specific. For example, those small businesses might be searching for information on how to register for VAT or even more specific questions like how VAT MOSS works. Finding this kind of keyword and creating high-quality, useful content around them can help you get found too, by the same people that may search for the broader, more competitive keywords.
Google Keyword Planner can help you find more broad keywords at the start of your search. It's less useful for long-tail keywords but it can help you find alternative words and phrases you might not have thought of. For example, as well as searching for "small business accountant", businesses often search for accountants that use the accounting software they're familiar with, so "sage accountant" or "Xero accountant" may also be good broad terms to target.
Once you have your broad keywords, you can use Google auto-suggest to find more detailed questions. Just by typing search terms into Google, you'll see suggestions for related searches, which you can keep clicking on to get more and more specific terms.
Moz keyword suggest
Type a search term into this tool from Moz and get 1000 suggestions back!
Optimizing semantic keywords around trends:
A great strategy to keep in front of the public and at the top of search engines is to optimize your semantic keywords around a trending topic.
This means you have to keep your eyes on high-volume topics. Here are the tools to do that:
Google Trends – This is the obvious place you should check first.
Ice Rocket – Search the latest buzz on blogs through this search engine dedicated to blogs. While you will see what's hot on the blogosphere…one thing you won't see is any older posts.
Trendrr TV – And if you want to keep on top of what's hot on TV, then Trendrr is the place you need to look.
TweetVolume – While it's offline for the moment, sign up to be the first to use this powerful tool to see popular keywords and trends on Twitter.
How Does semantic keyword Help You ?
When producing content, you want to ensure that your efforts are seen. Using a combination of semantic variations of keywords and LSI is a great way to help you to not only write more organically but also capture more of what people are searching for, whether you use the searcher's exact phrase or not.
Keyword research is important, not just because indexing is fueled by keywords but because search engines are becoming more focused on intent. When you plan for your keywords, it is important to know several ways that someone may be interested in stumbling upon your content and semantic search considers all angles.
What are the advantages of semantic keyword research?
Having a database of semantic keywords to create high-converting blog posts is one advantage, but there are other benefits, like improved CTR and PPC optimization as Wordstream explained:
Higher click-through rate
Whether it's in your emails, landing pages, text ads, or blog posts, highly-targeted semantic keywords will improve your CTR. When all these elements of the conversion funnel are aligned semantically…your results will go through the roof.
Lower minimum bids
Higher relevance and targeted action with your content due to semantic keyword enhancements will lead to lower minimum bids on your PPC campaigns.
Higher quality score
When you achieve high relevance around your semantic keywords the search engines will reward your content with a high-quality score that leads to better rankings.
IMPORTANCE OF SEMANTIC KEYWORD RESEARCH ?
Researching semantic keywords could potentially help improve your keyword strategy by allowing you to target more high-value words and phrases.
In the marketing community, semantic keywords are also called LSI keywords (latent semantic indexing) and the idea of these keywords is to solve a specific issue search engines and websites have:
Users don't always type in the same search terms to look for a particular subject. Let's say you have a text about "best cars for families to buy in 2020." You use that particular keyword phrase as a way to potentially reach people interested in new cars that are perfect for a family. However, perhaps some people won't type in their query with that exact keyword.
By default, search engines can't tell that "cars, " "vehicles, " "automobiles" mean the same thing. To them, they are different keywords, even if we know they mean the same thing. If not for semantic search, you would only reach those users who specifically used "cars" in their search query, leaving out the others who've types in "vehicles" or "automobiles," even if they are all searching for the same thing.
Semantic keyword important for SEO: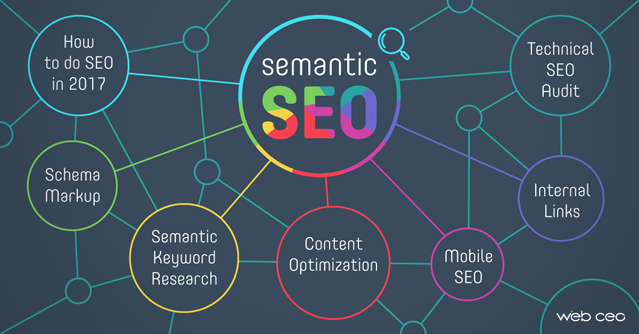 SEO experts know that because of the rising importance of semantic search, and the growing intelligence of Google and the other search engines around analyzing user intent and search context, it's vital to factor semantic search into online strategies.
SMART WAY OF SEMANTIC KEYWORD RESEARCH:
Keyword research is an increasingly important skill for digital marketers. Not only do they need to know how to develop a good keyword list for PPC and SEO, but smart content marketers use keyword research to find out what topics they should write about and what phrases they should use while writing.
Semantic Keywords are categorized by type and arranged by how effective they are at converting. As a rule, it makes sense to invest the most time and money in keywords closer to the bullseye. Only after you have fully maximized the volume from those should you move further out.
1. Brand terms:
People who are familiar with your brand already are the easiest of all to convert. In terms of volume, this category of keywords might not produce the most impressions or page views, but they usually will have the best conversion rate (in both paid and natural search).
2. Product terms
This is what your product is or does and what problems it solves. Depending on how diverse your array of products or services is, this list could be huge.
People who are searching for these terms are a little further back in the decision cycle, and your cost per action (CPA) on these terms usually will be higher than on brand terms. But you can get only so much volume from brand terms, so eventually you'll want to start winning with product terms, too.
3. Competitor terms
There was a time earlier in the life of paid search marketing that competitor terms were second only to brand terms for conversion rate and CPA efficiency.
However, in recent years, Google has tightened up its quality score requirements; and now it is nearly impossible to find a reasonable cost per click (CPC) on competitor terms. If you have money to spend and are trying to make inroads against a strong competitor, these could be good terms for you.
4. Substitute product terms
This is something someone might use instead of your product. For example, if you're selling pens, you might consider bidding on (or optimizing for) "pencils."
As with competitor terms, Google won't give you a lot of credit for relevance on these terms, so they will be more expensive to bid on for pay-per-click (PPC) and harder to win for search engine optimization (SEO). However, if you're getting all the volume you can out of previous categories, they are worth considering.
5. Complementary product terms
These are things that go with your product, such as "TV stands" if you sell TVs. They are someone else's product terms. You might win some marginal conversions with them.
6. Audience terms
This category covers all kinds of other terms that people in your target audience might be searching for. Usually, the impression volume on these words is vast, so it can be a tempting category to try.
Also, since this category is more aligned with traditional display targeting, which is based on the interests and pastimes of the audience, you might get a lot of suggestions from higher-ups about trying these types of words.
Conclusion
Hopefully, you understand the approach that I'm recommending so that you can then apply these to other tools. Keep in mind that as much as semantic keyword research is about finding actual keywords you can use in your SEO campaigns.