Omni-channel is a multichannel approach to sales that focus on providing a seamless customer experience whether the client is shopping online from a mobile device, a laptop, or in a brick-and-mortar store.
It refers to the ability to interact with potential customers on various platforms. A channel might be a print ad, a retail location, a website, a promotional event, a product's package, or word-of-mouth.
Who's using an omnichannel strategy and how?
To find out, Rakuten Marketing teamed up with the CMO Club in 2015. They surveyed 122 B2B and B2C chief marketing officers on their adoption of the growing technique.
According to their responses, 45% had already begun implementing an omnichannel marketing strategy, but only 11% of those considered their efforts "sophisticated." Of the respondents who had yet to, 29% were in the planning stages and intended to roll one out within 6 to 12 months.
The Major 3 Important Differences Between Multichannel & Omnichannel Marketing: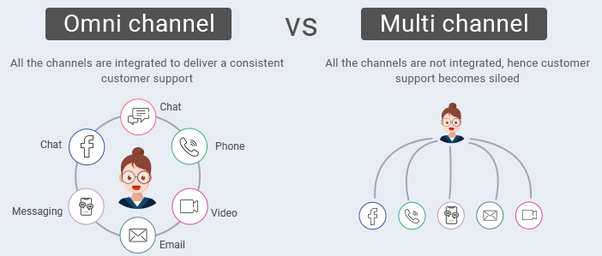 Multi- and omnichannel approaches differ in that omnichannel marketing puts the customer at the core to ensure a completely consistent, unified experience at every touchpoint as opposed to simply enabling that touchpoint. You can think of it this way, too: multichannel means many, omnichannel means all (the customer is literally at the center).
To better explain the uniqueness of multichannel and omnichannel marketing strategies, we can hone in on four key differences.
The multichannel approach merely aims to get the word out via the maximum possible number of channels. Multichannel marketing is about casting the widest net to get the most customer engagements, the more the merrier.
Companies utilizing the multichannel strategy are adopting two or more channels to engage their consumers; the most popular are social media and email.
The focus is on building a stronger relationship between consumers and the brand.
Companies with well-defined omnichannel customer experience strategies in place achieve a 91% higher year-over-year increase in customer retention rate on average, compared to organizations without omnichannel programs in place.
Omnichannel's focus on the customer's experience brings about the second key difference between the strategies: consistency.
Omnichannel businesses are diligent in ensuring their customers receive the same experience and messaging through every channel.
A consistent brand image and message ensure a heightened sense of familiarity and relationship with the brand. Marketers implementing an omnichannel marketing strategy must ensure that all internal departments are on board and in tune with the messaging.
Another priority of omnichannel marketing, as told by Misia Tramp, the EVP of Insights and Innovations for Tahzoois, is "understanding how to eliminate effort from the customer experience".
Omnichannel involves using data to understand where effort exists in the customer experience and how to remove, rather than add, effort." Omnichannel marketing wants to foster an effortless buying experience for consumers.
An omnichannel business focuses on creating an uninterrupted experience for the customer through multi-channels; irrespective of the medium he chooses to shop.
"Omnichannel retail doesn't require you to be everywhere, just everywhere your customers are," says Shopify. Of course, knowing where your customers require extensive research and data.
Brands today can open a direct communication channel with consumers that lasts through the entire sales cycle. Omnichannel retail is the new standard, and successful brands will not only take advantage of new, cross-channel retail, but also gather and effectively use data from these channels to create better marketing campaigns and, ultimately, better products.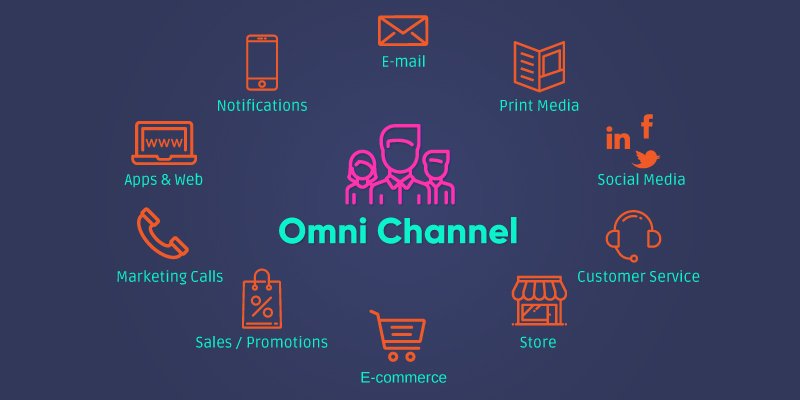 This method allows customers to connect with a brand through any of its current channels.
In this type of strategy, once a customer engages with a brand by clicking an ad or visiting a website, each of their social channels is now a tool to continue to communicate the brand message. Each channel is now updating to the last experience the customer had with your brand. Each touchpoint across the process creates a unified experience for your prospects.
By providing them with different ways to communicate with and engage with your brand, you are making it extremely convenient for them to do so.
Step 1:
Your customer visits your website after seeing a Facebook or Instagram ad. They see your product and add it to their cart, maybe even initiating checkout and adding their information. However, they do not seem to purchase immediately.
Step 2:
Let's say that they don't purchase. They choose to either sign up and use it immediately, save the coupon for later or ignore it altogether.
Step 3:
Your potential customer is now aware of the brand and more likely to purchase next time. But the key is the follow-up. They will now see abandoned cart ads on their social feeds to remind them to checkout.
Step 4:
Continue your prospect's priming process. Emphasize the features, benefits, leadership, and quality of your brand through retargeting on whatever channels make sense.
Step 5:
If your prospect has purchased by this point, congratulations! You now have the opportunity to get feedback, reviews, and even referrals. Collect these by communicating with them on tools such as messenger, text, or email.
Step 6:
Value-driven, post-purchase follow-up is key to generate upsells through a nurturing process. The goal is to turn your one-time customers into repeat buyers, then those repeat buyers into loyalists.
Make it easy for your customers to engage with you by having a unified message. Simplify it for them to find and communicate with you on the channels they already use.
Let's take a closer look at six benefits of omnichannel marketing:
1. Better data collection and analysis
With the aid of this information, you can maintain a 360-degree view of each consumer who engages with your brand.
2. Better customer segmentation better campaign designs and targeting
Analysis of your consumer data will help you find your ideal customers and segment them according to their intent. This information will empower you to create better campaign designs. In this case, you can move to cross-sell or upselling with ads for sofa sets, beds, or dining mats.
3. Greater across all departments and channels
A customer buys a shirt online and visits your store to return it. Because of your integrated processes, you can pull the customer data in seconds and complete the return in no time. Moreover, you can acknowledge their individuality with personalized on-site and online experiences.
4. Better brand visibility
Every time a customer encounters your brand, they are offered a seamless and personalized customer experience. This leads to better brand visibility, which means greater customer loyalty.
5. Cost-effective
With the insights derived from the data collected, you can drive marketing campaigns and deploy your resources more efficiently. It makes more sense to reduce spend on Facebook ads and concentrate more on Google ads.
6. Achieve higher ROI
The benefits mentioned above ultimately lead to better customer engagement, which in turn leads to more conversions and higher ROI.
The useful 3 challenges of omnichannel retail:
1. What do customers want?
It's a known fact that customers always go down their unique paths. However, you'll need to do both of these if you want to keep your retail business up and running.
Customer engagement across platforms is as important for retailers as content engagement is for Google rankings.
While customer satisfaction is one of the most important things you could aim for, this does not ensure loyalty. Without loyalty, checking out the graph above and taking its point into account is pretty much a moot point.
A customer knows very well that they can find the same product and customer experience somewhere else.
As mentioned before, omnichannel marketing is what came as an answer to the problems created by multichannel marketing. Some will even go so far as to claim that omnichannel is the evolution of multichannel.
However, one thing is for certain: you have a lot of channels, and the more channels, the more the challenges. Consequently, channel conflicts arise when inventory becomes limited, as goals are incompatible.
Conclusion
This is what omnichannel marketing does if the strategy is executed successfully. Just make sure that your seams are not showing.
So you see how omnichannel marketing extends to your social media channels, direct marketing and physical advertising.